All posts
Sphere.it conf 2023: Going Beyond Senior
May 11, 2023
We are thrilled to announce the upcoming Sphere.it conf 2023, set to take place on September 27th and 28th. Mark your calendars and get ready to embark on an extraordinary journey beyond the traditional definition of seniority in the world of IT.
Hello, Tech Enthusiasts!
Welcome to Sphere.it conf 2023, an exceptional gathering where software engineers and tech professionals unite to learn, exchange ideas, and become part of a vibrant developer community that fuels innovation in the software industry.
Sphere.it conf isn't your typical software conference. It's a place where software engineers and like-minded tech professionals converge to gain knowledge, collaborate, and be part of a dynamic developer community that spearheads innovation in the software industry.
This year's edition of Sphere.it conf is dedicated to addressing IT professionals at both regular and senior levels. Whether you're seeking to explore diverse development opportunities or overcome challenges encountered in an advanced career stage, this conference is tailored for you.
Ready to discover fresh insights, cutting-edge strategies, and practical tips to empower you on your professional journey?
Here's what you need to know:
Theme: Going Beyond Senior
At Sphere.it conf 2023, we invite you to explore the idea of pushing beyond the limits of traditional seniority. This year's conference is tailored for regular and seasoned IT professionals seeking to expand their knowledge of the latest development opportunities and navigate the challenges of an advanced career.
Join us as we delve deeper into the multidimensional aspects of seniority and career progression, focusing on management, teamwork, processes, and tools. Going beyond senior is the key to unlocking the secrets to professional success in the ever-evolving field of IT.

Agenda is Here: A Packed Lineup of Learning, Networking, and Inspiration
Get ready for an event that's brimming with knowledge, connections, and opportunities! With over 20 speakers, each an industry expert in their own right, Sphere.it Conf 2023 promises two days of insightful discussions, practical workshops, and meaningful interactions.
Our event spans two power-packed days, starting with Pre-Conference Workshops that dive deep into specialized topics, guided by seasoned professionals who are leaders in their fields. These workshops provide you with hands-on experience and the chance to refine your skills.
On the Conference Day itself, you'll be treated to an array of talks and discussions covering a diverse range of areas. From Tech Leadership to Career Growth, Management to Business Analysis, and Processes & Tools, our themes address the most pertinent aspects of the tech industry. Our speakers hail from esteemed companies like Akamai, SwissBorg, Persistent Systems, UBS, Kyndryl, and The Trade Desk, ensuring that you receive a well-rounded perspective on various topics.
But Sphere.it Conf 2023 isn't just about learning—it's about connecting too. While mingling over a refreshing beer, you'll have the chance to network with fellow attendees, industry experts, and speakers. All of this with the awe-inspiring backdrop of the iconic Wawel Castle, making your experience truly unforgettable.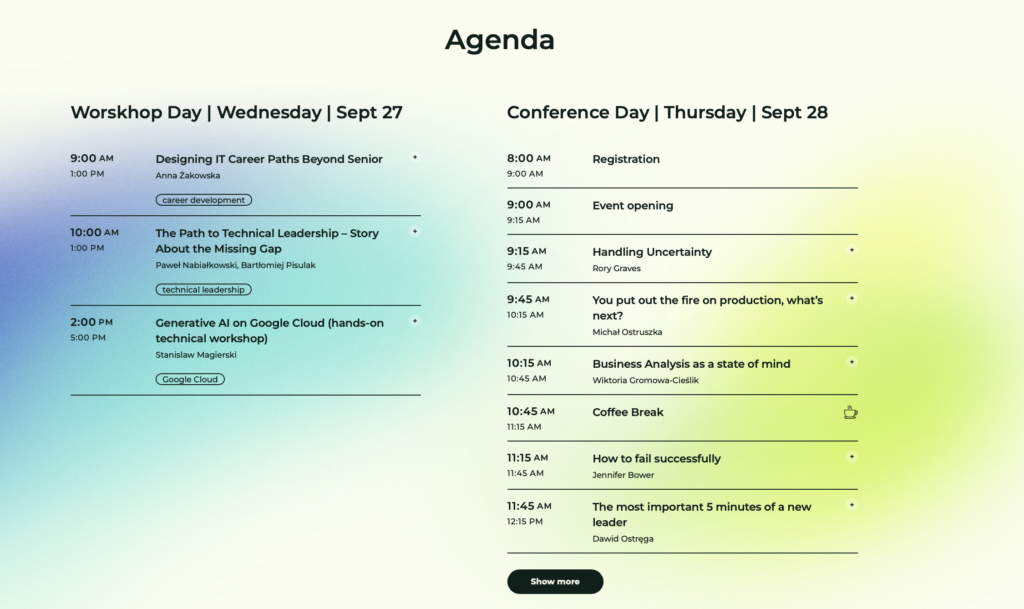 Workshop Day: September 27th
Mark your calendars for September 27th as we dedicate a full day to engaging workshops.
Our Pre-Conference Workshops are an incredible opportunity to dive deep into focused topics, led by experts who are at the forefront of their fields. These workshops are designed to provide hands-on experience and intensive learning, allowing you to enhance your skills and broaden your knowledge even before the main event kicks off.
Conference Day: Where Insights and Connections Flourish
The heart of Sphere.it Conf 2023 lies in our Conference Day, where we're bringing together speakers from renowned companies to share their insights, experiences, and strategies. With representatives from Akamai, SwissBorg, Persistent Systems, UBS, Kyndryl, The Trade Desk, and more, you're in for a day of inspiration and growth.
Themes that transcend: Tech Leadership, Career Growth, Management, Business Analysis, Processes & Tools.
Ticket Options
Take advantage of our ticket options to secure your spot at Sphere.it conf 2023:
Regular Tickets (Available until September 13th): Grab your tickets at the best price and ensure your place at this premier IT event. Don't miss out on the limited-time offer!
VIP Packs (Limited Availability): Elevate your conference experience with our exclusive VIP Packs. These packs include a range of exciting benefits such as limited VIP tickets, early access to Sphere.it workshop registration on September 27th, an invitation to the Speakers' Dinner Party on September 27th, a 15% discount code for Sphere.it conf 2024 (sold with VIP Pack tickets only), and a special swag pack on popular demand, featuring a branded hoodie and a Stojo 16oz cup.
Last Minute Tickets : Available from September 14th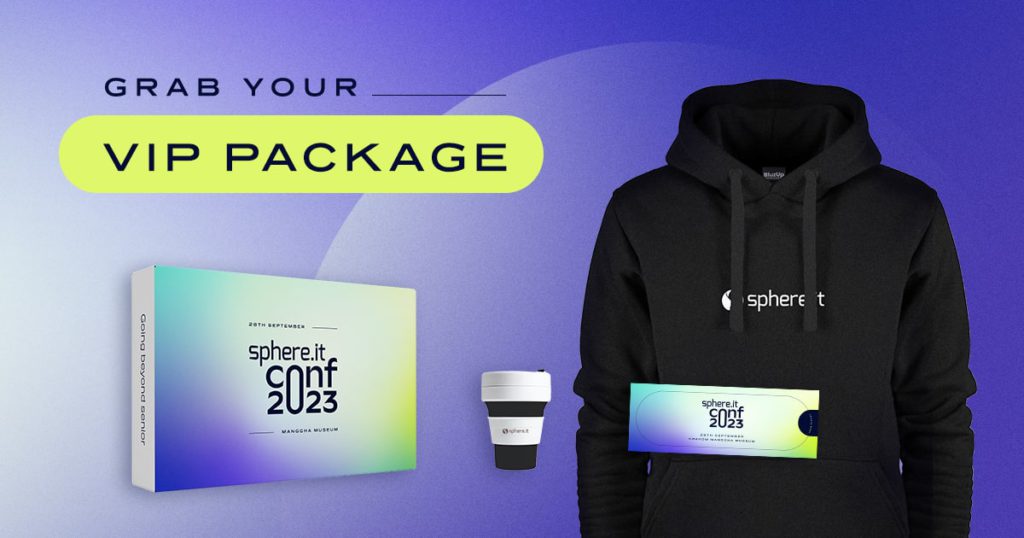 Join us for a two-day journey of growth, inspiration, and networking. With a blend of learning, networking, and the breathtaking setting of Wawel Castle, Sphere.it Conf 2023 is set to be an event like no other.

Stay connected with us on our website and social media channels for the latest news and updates. We look forward to welcoming you to Sphere.it conf 2023 and embarking on a journey beyond senior!
See you there!
The Sphere.it conf Team