All posts
BUGinnings in IT #3 – talks' recordings, photos, and more!
February 3, 2022
We couldn't dream of a better 2022 kick-off! On 20th January, we've gathered in the heart of Krakow's Kazimierz district to talk about the first steps in #UX, soft skills at the job interview, and the importance of the backend in UX design.
All you need to know to land and manage your first UX job.
The first talk has been presented by Monika Soja (UX UI Designer at Virtuslab) & Mira Helena Melhor (Senior UI/UX designer / Front-End developer at VirtusLab). Here's a short overview of their talk:
It's a jumpy road for rookies to become UX nowadays. Every month, boosting boot-camps businesses release tens of new designers with high hopes for finding their dream jobs. Applying for a job and getting through the interviews can be frustrating, and once you finally land the job – that's where the real challenges appear!
Monika & Mira shared all there is to know to land and manage a first design job during their talk. How to write your CV (and how not to)? What to expect in your recruitment interview? How to talk to clients, engineers, and non-designers? How to handle criticism, plan your work – they covered it all. Watch the talk in Polish (English subtitles will be available soon).
Soft skills during a job interview – how to get prepared?
Szymon Sobczak (Founder & CTO at Solvbot) has presented as second. Here's what we've heard about from him:
As programmers, we spend hours solving example tasks, remembering the language syntax tricks, and learning functions from standard libraries when preparing for recruitment. Hard skills – check. But what about soft skills? Can we prepare for that? Why do recruiters ask things like "What was the most valuable thing about your studies?" or "Where do you see yourself in 5 years?"
For 12 years, working not as a recruiter but as a programmer, Szymon conducted almost 400 interviews. Now he runs his own company and, of course, continues to recruit. In his talk, he shared what employers are looking for and why writing code is not enough.
The importance of backend in the UX Design
Last but not least, we heard from Szymon Barabasz (UX Designer & Business Analyst at Industi). Learn what he included in his talk:
The combination of User Experience and Frontend Development is a completely natural and logical matter. Designers are often required to know the basics of frontend technologies, and when talking about UX communication with developers, we mean – of course – the fronts.
How did Szymon spend 3/4 of his time with devs on the backend? What projects led him to create such a model of work? Why should UX also be in touch with the backend? In his talk, Szymon spoke about science, constant willingness to develop, and a different perspective on building your professional path.
Kudos to our speakers for inspiring talks, and a big thank you to all who joined us at the venue. It was a pleasure to see you enjoying the event and networking. Hope to meet you again soon!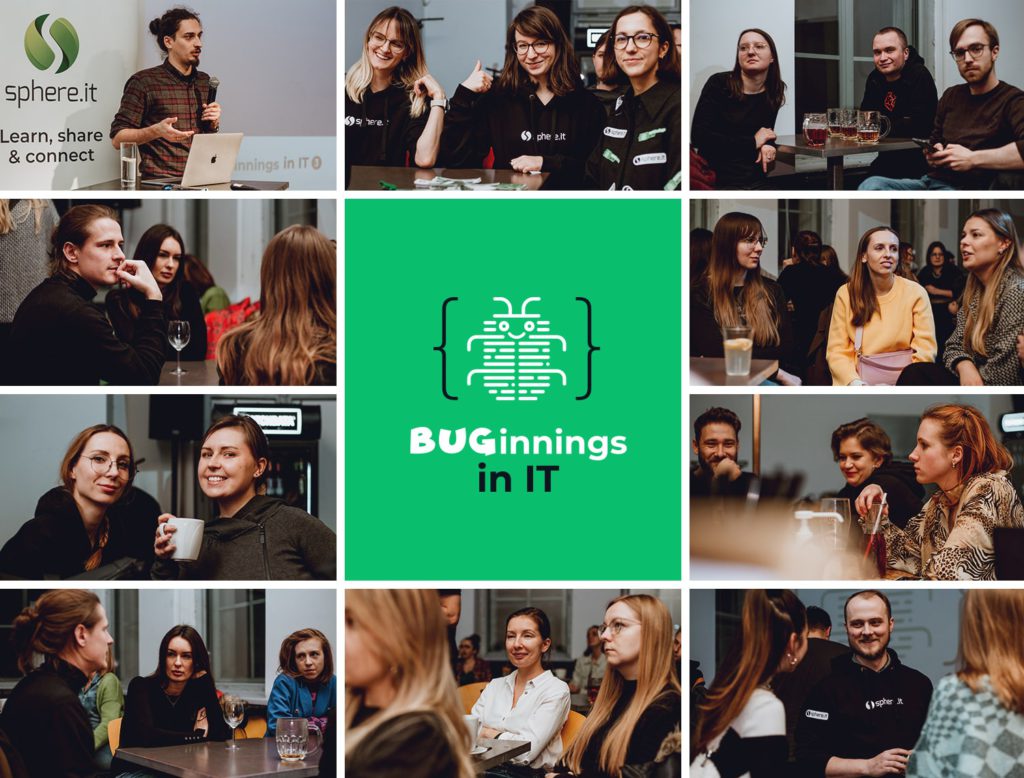 Full photo gallery available here.
P.S. Stay tuned – we'll share info about the next BUGinnings in IT event shortly!
Tags