All posts
Get ready for Sphere.it Tech Talks #2!
July 9, 2021
Sphere.it Tech Talks is a series of evening events where you can hear brief talks showcasing fresh concepts, case studies & best practices from the chosen tech area.
After the first session focused on headless CMSs and Micro Frontends, here comes another opportunity to meet online. On July 15th join us to hear two talks around Data Science, Machine Learning & Artificial Intelligence and join the conversation with our experts.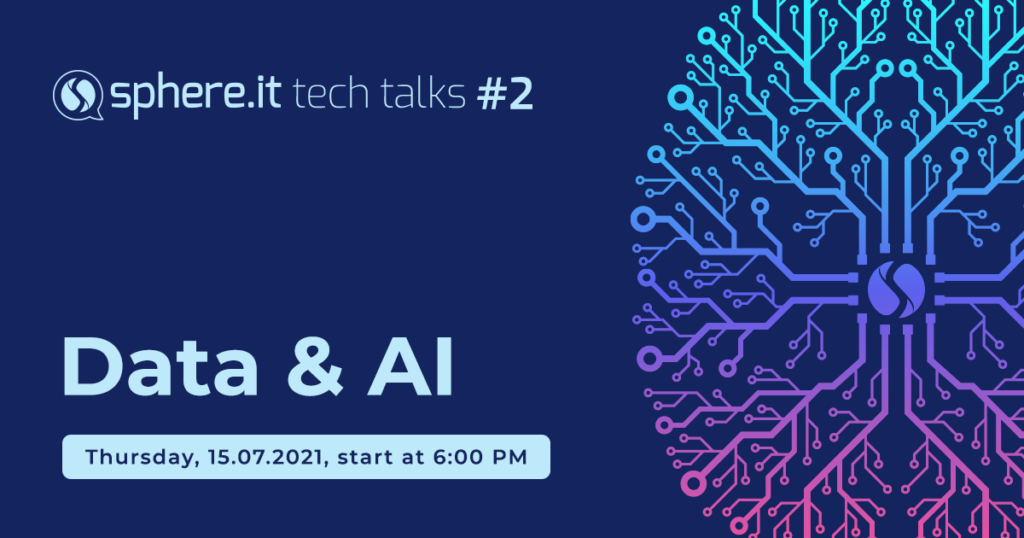 Agenda
6:00 PM • Collaborate, Document, Version Deploy with Dss. by Sofiane Fessi | Dataiku

Abstract:
In this talk, in only 30 minutes we will be building, documenting, versioning, and deploying a Churn prediction project in a collaborative way using Dataiku DSS.

Sofiane Fessi
An expert in Data Science and International Business. As Head of Sales Engineering at Dataiku, he's leading a team of brilliant Solutions Architects.
6:30 PM • Trained scikit-learn model refinery with open-source packages by Maria Oleszkiewicz & Dorota Lączak | IBM
Abstract:
How to create an AI providing model from any tabular data? How to manipulate such a model? How to make the model available for your app?
These are the questions we would like to address during our presentation. Using open-source Python packages and AutoAI we will walk you through model creation, refactoring and deployment. We will present the creation of a full scenario that would infuse AI into your app.

Maria Oleszkiewicz
A Python & Scala programmer. Currently, she is developing the Python API for IBM Watson Machine Learning. In her free time, she creates unique items using manual skills like hand spinning, knitting, crocheting, and weaving.

Dorota Lączak
A Software Engineer with 2 years of experience testing and developing on IBM Watson Machine Learning AutoAI components. She is enthusiastic about Python and Data Science topics.
6:30 PM • Panel discussion with Q&A
After the talks, we invite you to a panel discussion with our guest speakers hosted by Zbigniew Skolicki – Head of Data departament at VirtusLab. There will also be time for Q&A, so make sure to save your spot among IT people from all around the globe!
Hope to see you there!
If you'd like to take the spotlight yourself and prepare a talk for another Tech Talks event – our call for papers is open.