All posts
Looking back at 2022
December 28, 2022
Every year Sphere.it initiative brings new opportunities to learn, share knowledge and meet exciting people from the IT community. 2022 did not disappoint; quite the opposite. We had a great time together during multiple online & offline events, not to mention the Sphere.it conference that is back in force. Let's go through the highlights of 2022!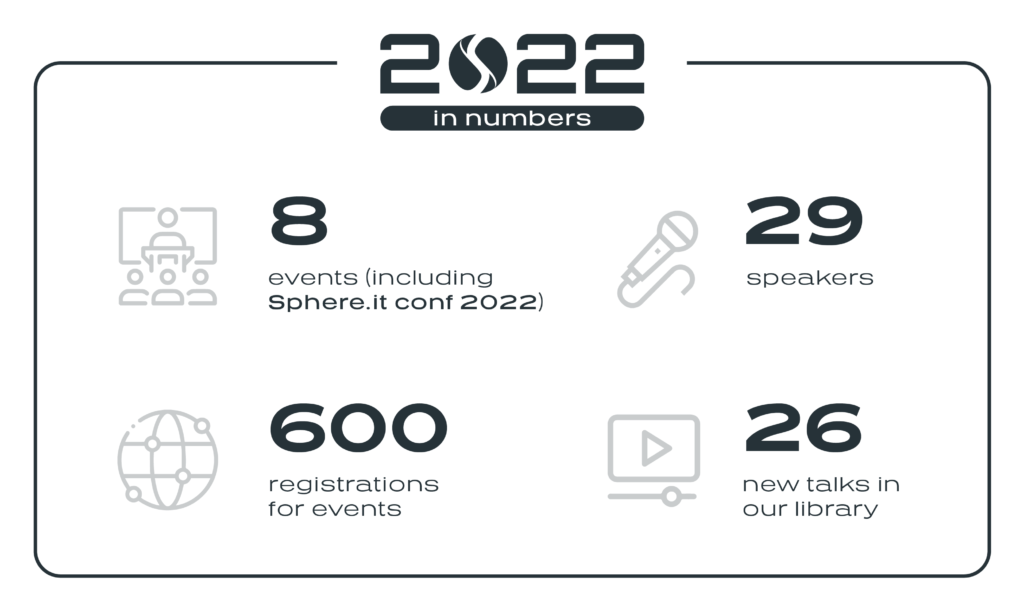 Tech Talk Series
We started with Tech Talks, online events focused on various tech areas, and Q&A sessions with experts. Check out talks presented at the first sphere.it events in 2022 dedicated to Data and Testing.
pandas-stubs — How we enhanced pandas with type annotations by Joanna Sendorek & Zbyszek Królikowski
A/B Testing Madness by Aleksandrs Gehsbargs
Assuring quality as a Test Lead in an Agile team by Bartosz Siwiński
Software Quality is Not Only About Code and Tests by Aleksandra Kunysz

Inspiring Women in IT
Every March is a unique month because of International Women's Day. With Sphere.it you can celebrate it in a special way, at Inspiring Women in IT event. This year, we had the opportunity to hear stories from leaders, managers, and mentors connected with the IT industry. The event host was Karolina Wasilewska – journalist and author of the Girl Gone Tech blog and "Cyfrodziewczyny" book. All recordings with subtitles are now available at the Sphere.it talks library. Check out talks about perfectionism, challenges, experiences and get inspired!
Mrs. Manager – Either perfectly or not at all by Anita Warkiewicz
Holy Moley – it did work! by Dominika Glazer
Lessons to my younger self by Agnieszka Lasyk

BUGinnings in IT
2022 was full of stories about beginnings. Experts from different tech areas shared career stories, setbacks and lessons learned. During these 12 months, we met in-person four times and conquered a new city – Katowice. We heard about the first job in UX, job shadowing, open source, career challenges, and more!
All recordings from the events.

Sphere.it conf 2022
After almost three years of break Sphere.it conf took place in Krakow Manggha Museum. This unique conference dedicated to the IT community gathered over 200 participants. For this edition, we decided to focus on integration and networking. The conference had one interdisciplinary path with 11 speakers from different technological fields. All recordings are now available in the Sphere.it talks library.
Make sure to check them all here.

Knowledge & experience sharing – this is how we'd describe this year's Sphere.it activities. 8 events with over 600 registrations, 29 speakers, and 26 new talks in our library. Kudos to every speaker joining us this year, and to each person that registered for the Sphere.it events. It couldn't work without you.
Get ready for 2023 – we're not slowing down the pace!