All posts
Next week's Panel Discussion on Reactive Systems – all you need to know about the event
June 7, 2021
In one week – on June 14th you'll be able to join our next event, this time a panel discussion on a topic of:
Reactive Systems: real-world use cases and challenges
Our panelists will look closely at the usability of reactive architecture in business, define and discuss the challenges of its implementation, and point out the benefits coming with the process.
Meet our guest panelists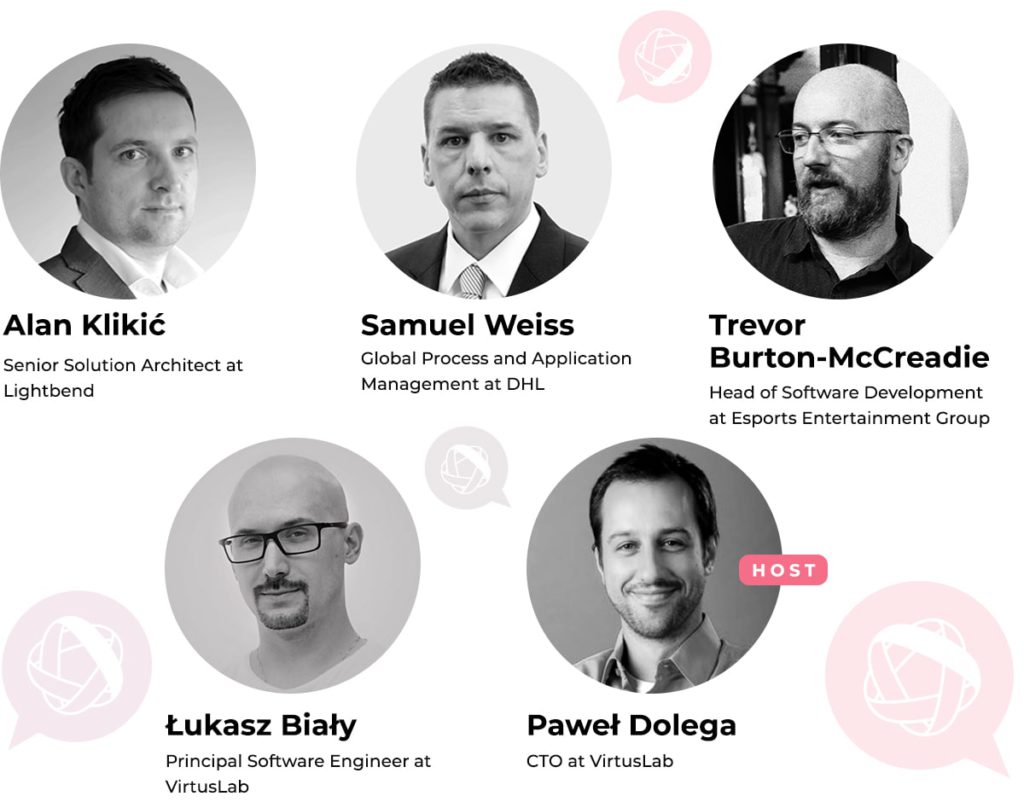 Trevor Burton-McCreadie
Trevor is the Head of Software Development at Esports Entertainment Group. After a failed bid at rock stardom, he found solace (and a regular paycheck) writing code. Beginning as a front-end and game developer working with Adobe Flash and Javascript and then moving over to back-end development he gradually found himself working more and more on backend development. Trevor has built systems using Ruby, Python and Java but now works almost exclusively with Scala and has focused for many years now on systems related to gambling. He lives in the North East of England with his wife, two children, a smart cat, and a stupid dog.
Samuel Weiss
Samuel is part of the Global Process and Application Management organizing at DHL Global Forwarding, primarily focusing on strategic initiatives coming from the IT renewal roadmap. He's an intrapreneur with over a decade of experience in Product, Service, and Business Performance Management started as a software developer 25 years ago. Samuel is passionate about contributing to the success of the company.
Alan Klikić
Alan Klikic is a Senior Solution Architect at Lightbend. He has 15+ years of experience in software development and is passionate about reactive and distributed systems. Prior to Lightbend, Alan was a co-owner and technical lead of Intenda Net, Croatian software company developing in-house software solutions using Lightbend products. Alan holds a Master's degree in Computer Science from the University of Zagreb, Croatia, and currently resides in the Netherlands with his wife and four children.
Łukasz Biały
Łukasz is a Principal Software Engineer at VirtusLab. He's a polyglot full-stack developer and functional programming enthusiast who values quality over quantity. A permanent learner with severe information dependency problems. Łukasz enjoys conversations about philosophy and all things related to the mind's inner workings. He loves mountains, biking and hiking.
The discussion will be hosted by Pawel Dolega
Pawel is the CTO at VirtusLab, Software Engineer/Manager/Entrepreneur passionate about technological challenges and problems that technology is trying to solve. He likes to work on things that matter.
Agenda
6:00 PM – Panel discussion:
What are reactive systems?
Business cases/requirements tailored for reactive architecture
Tools & practices
Beyond the hype: real-world challenges
Evolution of reactive systems
7:00 PM – Q&A
7:30 PM – Networking
Join the discussion to learn about different use cases, challenges, and the future of reactive systems. Take part in the Q&A to ask your own questions on that topic and stay for networking to exchange thoughts and experiences with other event participants.
See you on Monday!